Kindle Price: $21
Did you know that our beloved Christine Townend's most recent book, a biographical tale called A life for Animals was written to help fund the work of Working for Animals charity. The book makes gripping reading, and tells the story of a journey to India which changed Christine's life forever.
Until now the book has been difficult to buy in bookshops or online and we're sorry so many of you haven't been able to get hold of this wonderful book.
But we've just had some good news.  The book is now available on Amazon for download in kindle: https://www.amazon.com.au/Life-Animals-Animal-Publics-ebook/dp/B07F3P2PXT and as of August 2018 will also be available from Booktopia. 100% of the proceeds of this book are donated directly to Working for Animals who help fund three animal shelters in India – Help in Suffering in Jaipur, Kalimpong Animal Shelter and Darjeeling Animal Shelter – as well as supporting other causes which progress the lives of animals across our planet. When you buy this book you will not only enjoy an inspiring story, you also financially help many animals in need in India.
We thank you for your support and invite you to view some of our work at www.workingforanimals.org.au.
Please feel free to share this with anyone you think may be interested and place it on Facebook or other social media.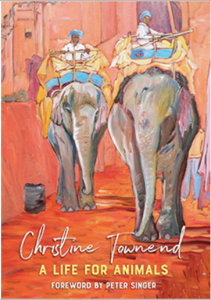 Price: $30
This book can be ordered from http://purl.library.usyd.edu.au/sup/alifeforanimals It tells the story of how Christine Townend founded Animal Liberation in Australia and how Kalimpong and Darjeeling Animal Shelter in the foothills of the Eastern Himalayas  were established. Christine also filled the voluntary position of Managing Trustee at Help in Suffering Animal Shelter in Jaipur, Rajasthan, and was deeply moved by the profound suffering of people as well as animals.
In 2008, a YouTube clip became an internet phenomenon. It showed the emotional reunion of two young men and their pet lion, Christian, after they had left him in Africa to be introduced into his rightful home in the wild.
Anthony 'Ace' Bourke and John Rendall visited London from Australia in 1969 and bought a boisterous lion cub in Harrods. But Christian soon grew from cuddly cub to King of the Kings Road in London, and the only way to avoid him being incarcerated in a zoo was to place him under the expert care of George Adamson in Kenya. Ace and John did not return to see their lion for a year.
Click links below to order book
Australia
Random House Australia – Click here to order
UK/Europe
www.amazon.co.uk – Click here to order
USA
www.amazon.com – Click here to Order
Random House USA – Click here to Order