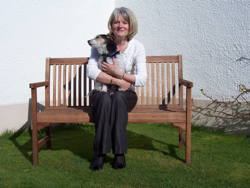 I had to give this some thought to her proposal as I knew it would take up much of my time, but my love of the animals, and my concern about their suffering, finally persuaded me I should accept the position. I duly met up with Pauline Skeate at her house, together with Christine and Jeremy Townend who, being in the UK, had contacted her in order to thank her for the work she was doing on behalf of HIS. It was the first time any of us had met, and we all felt a shared concern for the animals of India. I agreed at that meeting to accept responsibility for running HIS in the UK, and for procuring its registration as a UK charity. Mrs. Skeate seemed relieved to hand everything over to me at that time. I set about getting the charity registered. Jeremy Townend, being a lawyer, was able to draw up the constitution.
Christine suggested that Joyce d'Silva, at that time CEO for Compassion in World Farming, with her experience in running charities, would be a good trustee for us. I approached Joyce and she agreed to accept the position. A vet who had very briefly been in India at the Jaipur centre, Julie Turner, also became one of the founding trustees. At this time, Jack Reece, a British vet working at HIS in Jaipur, also agreed to become a trustee, but later needed to resign due to a conflict of interests. However we are fortunate that whenever he visits his family in the UK, usually twice a year, he meets with us to brief us on developments in Jaipur. In 2006 one of our supporters and fund-raisers – Penny Woollams – joined us as a trustee.
On average HIS(UK) sends around £10,000 a year towards special projects in India such as the camel and horse clinics and the ABC programme for the street dogs. I hold various table-top sales to raise funds and also to attract more members to the charity. We have a very small but dedicated membership which enables us to support the Jaipur centre on a regular basis.
By June Harney