By French veterinarians Edith Albin and Tanguy Le Quang
Last October 2015 we spent 17 wonderful days at Kalimpong animal shelter as volunteer veterinarians, contributing to the animal birth control, vaccination programs and medical consultations with Dr. Deo Pandey and his team.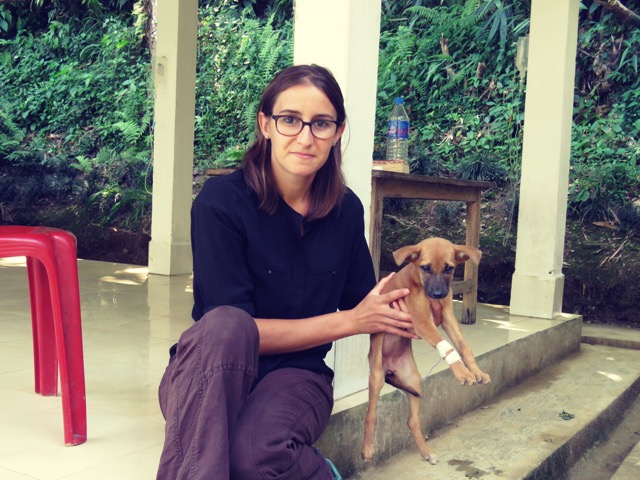 We discovered this shelter hidden in a beautiful green garden, perched in the mountains above Kalimpong town, with a superb view of Kangchenjunga, the third highest mountain on earth. We first met there the free dogs, puppies and cats living together in the shelter as a family, fed and treated with love by the shelter staff as if they were their own animals.  Sick and hospitalized animals were isolated in specific kennels. A new operating theatre was under construction. We immediately knew that we would spend great moments here.
We really enjoyed our time with all the welcoming team : Dr Pandey, Arpan, Lil, Mahesh, Lakpa, Sanjiev, Padam, Anu and all the staff who made our stay a rewarding and unforgettable experience. We did not expect to discover so much in such a short time and were suprised by the technicity and effectiveness of the veterinary staff in any situation : anesthesias, surgeries, consultations…everything here was done with professionalism and serenity, making our work definitely more relaxed.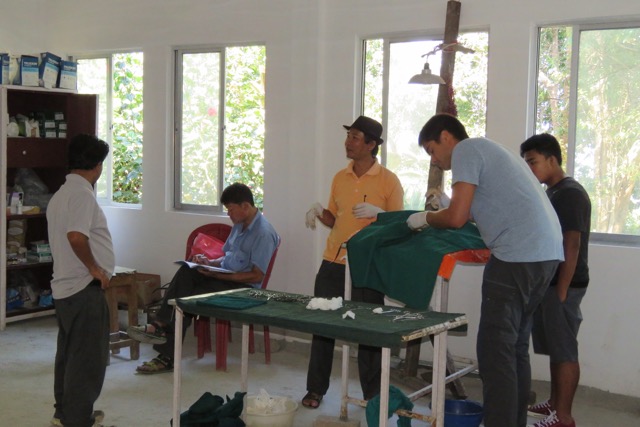 We neutered many female and male dogs and a few cats first captured in the neighbourhood by the staff or directly brought by the owners. The technique used here was very original and impressive for us for females dogs. Only one little incision on the right flank to spay one female dog, which allowed very quick recovery and healing! Dr Pandey and his staff were operating so easily ! They were very patient teaching us that technique and we were really impressed. Traditionnaly, most of veterinary practices in Europe operate by incisions on each flank or by mid-line.
We had to cope with a parvoviroris outbreak among the shelter puppies, a few cases of mange and distemper, … We joined a vaccination camp with Lil, Mahesh and Sanjeev. Every year more and more owners bring their dogs for rabies vaccination, thanks to the awareness-raising effort done by the shelter members. We have not seen any case or suspicion of rabies during our stay in Kalimpong.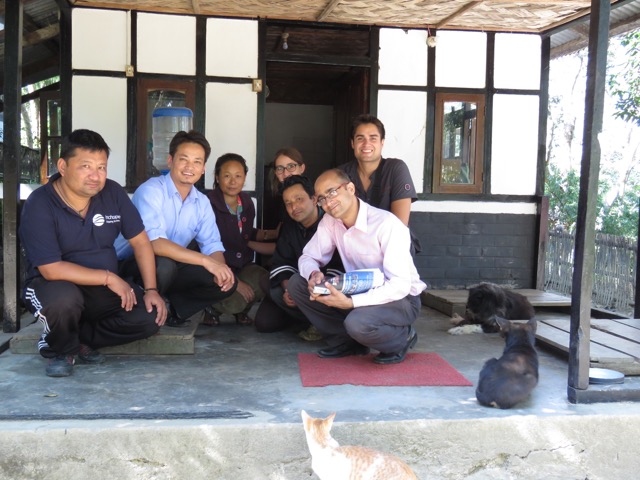 We shared a lot with the shelter clients too who were incredibly welcoming and friendly, making consultations very comfortable in spite of language and culture barriers. Once again the veterinary staff of the shelter was very helpful for translations and maked communications with customers easier. This gave us the opportunity to discover the unique local culture, a mix of Indian, Nepali and Tibetan influences, and the strong relationship between local people and their dogs and cats. More than only work, it was really a human experience.
We hope to come back one day for a longer time,  because we enjoyed a lot working with the all staff of Kalimpong Animal Shelter… Many owners' animals cured here. We had the pleasure of meeting Dr.Christine and Mr Jeremy Townend (who created this amazing place) at the end of our stay. Thank you very much to all the people who made it possible for us to live this unique experience.