Kalimpong Animal Shelter was founded in the year 1995 by Dr. Christine Townend. The organisation commenced functioning in 1998 with the Animal Birth Control programme (ABC) which was recognised by the World Health Organisation. This heralded the end of the age old system of poisoning street dogs by the Municipality.
Concerted efforts by the Kalimpong Animal Shelter over the years for eradication of rabies through vaccine drive, spay and neuter programme, rescue and adoption have largely contributed to stable, rabies free streets in Kalimpong and other towns and areas of the District. Their role in educating and bringing awareness amongst the community by holding educational camps in remote and inaccessible areas has been praiseworthy.
Rotary Club of Kalimpong considers it a privilege to honour Kalimpong Animal Shelter by conferring on them the Rotary Vocational Excellence Award, 2018, for their contribution to the advancement of their vocation and exemplary service to the community.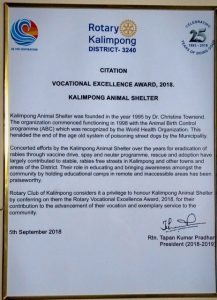 5 September 2018
Rtn. Tapan Kumar Pradhan,
President (2018-2019)